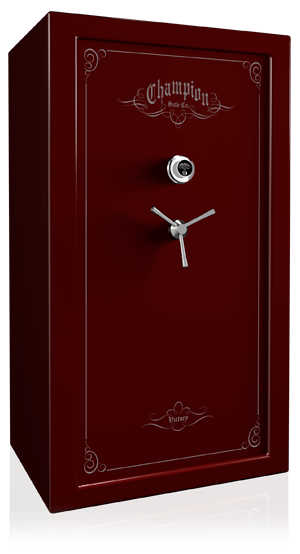 BEST IN CLASS
The Victory Series is our most popular safe—and for good reason. It offers excellent security, fire protection, and quality at an attractive price. The Victory's body is formed from 12-gauge American-made steel with a reinforced Double-Steel Door Casement™. Its Double Plate Steel Door™ is constructed from two full layers of steel and encases a precision four-way active boltworks. Other features include: clutch-driven mechanism, complete door defense systems, and Champion's bolt-detent. Its 1400°F 60-minute fire rating is unmatched in its price range. After careful examination, you'll find the Victory Series surpasses all other safes in its class. In fact, you'll find it superior to most higher-priced products on the market.
BODY
• Up to Two-Inch Thick Composite Walls
• 12-Gauge Steel Walls
• Up to Three Layers of Fire Insulation
• Double-Steel Door Casement™
MAXIMUM–SECURITY DOOR
• 4½"-Thick Double Plate Steel Door™
• 12-Gauge Outer Steel, Full 14-Gauge Inner
• 7/16″ Reinforced Door Edge
• Internal Ball-Bearing Hinges
• Two Layers of Fire Insulation
• Three-Spoke Handle with Slip Clutch
BOLTWORKS
• Four-Way Active Boltworks
• Up to 12, 1''-Diameter Door Bolts
• Bolt-Detent™ System
• Roughneck™ Bolt Guides
LOCK PROTECTION
• Sargent & Greenleaf® Group II Dial Lock
• Champion's Auto-Relock™ System
• Diamond-Embedded Armor Plate™
INTERIOR
• Plush Velour Interior
• High Capacity Gun Racks
• Steel Reinforced Top Shelf (VT-45, VT-40)
• Deluxe Door Organizer
RATINGS
• 1400° 60-Minute Fire Rating
• Phoenix™ Class II Fire Protection
• Tested in an ASME Certified Facility
• UL® Security Rating
• Lifetime Warranty
MODEL

PRICE

GLOSS

TEXTURED

MD-45
$2405
$2094
MD-41
$2017
$1862
MD-31
$1784
$1629
MD-22
$1489
$1334
MD-17
$1257
$1102
Prices do not include delivery. Contact Gilbert Safe Outlet for delivery charges.
All prices include tax.
AVAILABLE COLORS

AVAILABLE SIZES
*Depth includes 2.5″ for handle