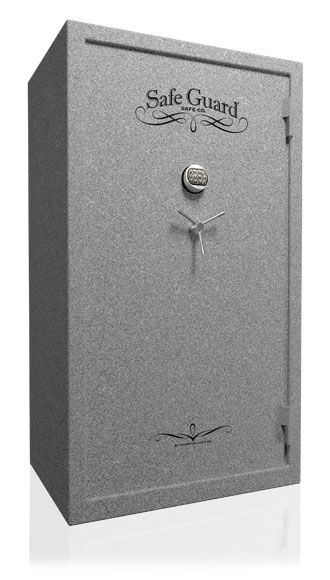 SAFE GUARD WHAT YOU VALUE MOST
Our Safes are hand-built one at a time using only the best quality American-made steel, parts and components. We build the most secure, highest quality safes at the most affordable prices found in America. Safe Guard's GR Series come in five popular sizes and offer excellent security, fire protection and quality. Loaded with features, they are recognized for their superiority and enduring value. After careful examination, you'll find Safe Guard surpasses all safes in its class. In fact, you'll find it superior to most higher price products on the market.
American-Made Steel
All Safe Guard bodies are constructed from American-made 12-gauge steel plate.
Safe Body
The body is pressure formed from one piece of steel. The top and bottom caps are welded with 100% continuous MIG welds.
Double-Steel Door Casement™
To add strength and rigidity to the safe body, Safe Guard adds a double-steel door casement around the perimeter of the doorway.
Door Edge Thickness
All doors are constructed from 10-gauge steel with a 7/16″ multi-layer edge reinforcement.
External Hinges
To support the weight of Safe Guard's heavy doors, all models use external hinges. External hinges offer greater hinge rigidity and up to 180° door opening.
Four-Way ACTIVE Boltworks
To provide the highest level of security, active door bolts must be positioned on all four sides of the door. Four-way active door bolts are found on all Safe Guard models.
Door BOLT Detent System™
The detent system prevents bolt movement when the safe's door is open. Closing the door with extended door bolts could damage the mechanism and external finish.
Sargent & Greenleaf® Dial Lock
The Sargent & Greenleaf® lock is recognized by locksmiths to be the best American-made lock and is standard on all Safe Guard models.
Diamond-Embedded Armor Plate™
Safe Guard bonds industrial diamond to 1/4″ thick through-hardened tungsten steel to create the ultimate in lock protection.
Auto-Relock System™
All Safe Guard models feature the Auto-Relock system which protects a safe from drilling and forced entry.
Clutch-Drive System
All models have a clutching system that eliminates excessive handle pressure from damaging the safe's internal mechanism.
High Capacity Gun Racks
Safe Guard's exclusive double-sided gun racks provide unsurpassed long gun storage.
Steel Reinforced Top Shelves
To increase top shelf loading capacity, Safe Guard adds dual steel reinforcements on models 41 & 45 top shelves.
Door Organizer
All Safe Guard models (except GX-11) come with durable fabric door organizers featuring pistol holders, mesh and fabric door pockets.
Fire Protection
Safe Guard uses multiple layers of 5/8″ Fire Code Type X insulation. The insulation is properly installed with no uncovered walls spaces or a pocket cutouts.
UL® Security Rating 18DN
All models have earned a UL® Residential Security rating.
GR FEATURES:
• 4-1/2″ Thick Double Plate Steel Door™
• 12-Gauge Outer Door Steel, Full 14-Gauge Inner
• 7/16″ Reinforced Door Edge
• 1200°F 60-Minute Fire Rating
• Double-Steel Door Casement™
• 12-Gauge Steel Walls
• 1″-Diameter Door Bolts
• Four-Way Active Door Bolts
• Diamond-Embedded Armor Plate™
• UL® Security Rating
• Lifetime Warranty